Corona Renderer 1.7 for 3ds Max Released!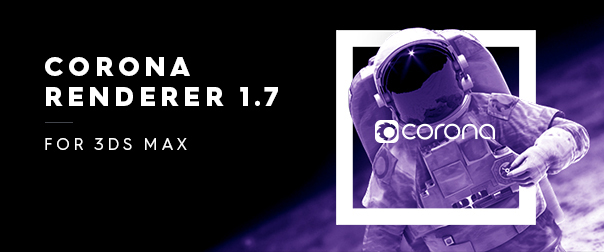 Corona Renderer 1.7 for Autodesk 3ds Max has finally been released! This release focuses on massive rendering speedups, accelerating your workflow, and making your 3D people look amazingly realistic!
NEW FEATURES VIDEO
The New Features video below gives you the quickest overview of what's new in this release:
Read more for full details on the update and the download link!
DOWNLOAD
If you want to download and install while you read, you will find the latest version at:
https://corona-renderer.com/download/
Demo Refresh: If you have tried Corona Renderer before and your 45-day trial expired, you will be glad to know the demo period is automatically refreshed to give everyone an extra 14 days! Simply download and install 1.7 from the link above, and you can activate the refreshed demo period right from within Max, so you can try out all the new features for yourself! Enjoy!
QUICK FACTS
THE MEANEST AND LEANEST VERSION YET
100% speed boost comes from the integration of V-Ray's DMC sampler, the first (of many) benefits to Corona Renderer users from the Chaos Group merger
You can get up to a 600% additional speed boost in scenes with more than 1 light, thanks to the optional new adaptive direct light sampling
Adaptivity recomputation is faster by a factor of 2 to 3
Other general improvements add an additional 5% speedup
Optimization of render elements mean they need 25% to 75% less memory
NEW FUNCTIONALITY
We've added the Material Library, a collection of over 300 materials for you to use with a drag and drop
All major hair and fur rendering tools are now supported
Dedicated shaders for Skin and for Hair let you create realistic materials with the ease that Corona Renderer is known for
New Subsurface Scattering in the Corona Material makes creating marble and other materials easier and more realistic than before
Dispersion gives extra realism to gemstones, glass and liquids
The dedicated Corona Camera
…AND MORE!
Apollo Spiliotis
Architect - Tech Writer - 3D Artist - 3D printing enthusiast